Falls are the main causes of hospitalization for accidents among children and adolescents from 1 to 14 years in Brazil and characterized as the most common accidents that cause hospitalization of our children.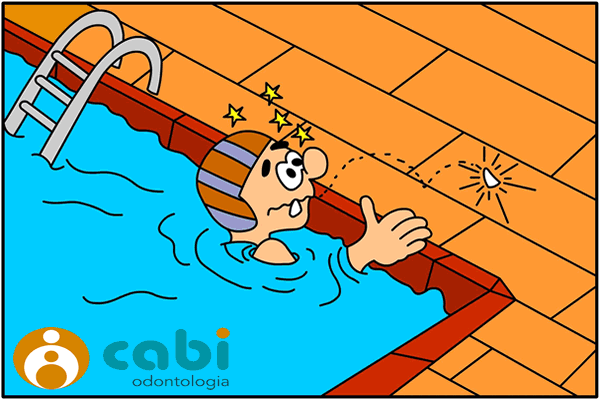 Some physical characteristics of child development may favor falls, such as the size and weight of the head in relation to his body, which end up facilitating the imbalance.
Falls can cause serious injuries, such as head injuries. In falls can be injured the head, mouth, teeth, arms, hands, fingers, legs, feet, knees, etc.
Simple falls like from own height can have most serious consequences, such as head trauma, that requires special attention. The entire body should be carefully examined for post-traumatic injuries, including mouth and teeth.
How to prevent falls
Kids must play in safety places, far away from stairs, balconies and slabs;
Use safety gates at the top and bottom of stairs. If your ladder is open, install nets along it;
Install grids or safety nets on windows, balconies and mezzanines;
Children under 6 years should not sleep in bunk beds. If you don't have an alternative, put guard rails on the sides;
Keep beds, cabinets, and other furniture away from windows as they can make it easier for children to climb up and bend over it. In addition, make sure the furniture and laundry tank are stable and secure;
Messing up toys in the room  can cause falls, especially in toddlers;
The use of common socks in children who are starting to walk can also be the cause for slips and falls. Wear non-slip socks at this stage;
Always wear your helmet when riding your bike, skateboard or roller skates. It can reduce the risk of head injuries by up to 85%;
Beware of slippery floors and slip-on mat;
Take care of children when they are playing in the playground. The risk of injury is four times greater if the child falls from higher than 1.5 meters. Make sure the toys are in good condition and fit the child's age;
Make sure the playground equipment is appropriate for the child's age and be aware of hazards such as rust, exposed nails, unstable or broken surfaces;
The use of walkers is not recommended by the Brazilian Society of Pediatrics. In addition to compromising the child's healthy development, they can cause serious falls;
| | |
| --- | --- |
|   |   |
Protect children from 4 years of age, with the use of mouth guard during recreational or sports activities (bicycle, roller skates, skateboards, judo, football, etc.). The use of this equipment reduces dental trauma by up to 80%.